Cross Country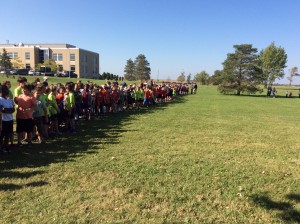 I don't think anyone can disagree that the weather we had today was wonderful and warm for the cross country race. We laced up our shoes, took some gulps of water, and waited to be summoned to the starting line. Eleven year olds, ten year olds, then it was us! We squealed with excitement when we were called and off we went to the starting line. Mr. Babington gave us instructions at the starting line and when the cap gun went off, so were we.
Take a look at the girls at the start of their race.

Mrs. Sullivan reminded us that it doesn't matter what number we placed, what matters most is that we put forth our best effort, nothing more, nothing less. The certificates go home on Friday.
Way to go! You should be proud of your efforts today.
What was something you really liked about today's race?
The following two tabs change content below.