Drafting Ideas
In Writing Workshop, we are learning to generate ideas for writing realistic fiction.
What is realistic fiction?
Realistic fiction is a genre consisting of stories that could have actually occurred to people or animals in a believable setting. These stories resemble real life, and fictional characters within these stories react similarly to real people.
We have learned to:
reread older entries in our notebook, mining for possible ideas
think about stories we wish existed in the world and write about them
draw a map of our house and let this reveal ideas for a story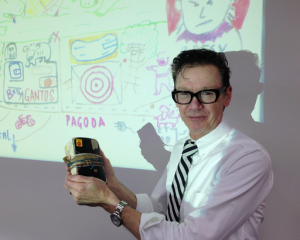 When writing, it is great to learn from the pros! Recently, we've been learning different ways to gather ideas for writing realistic fiction. Over the last few days, we've had Jack Gantos as our teacher of writing. He's the author of the Rotten Ralph series, Joey Pigza series, Jack Henry series, and other books, too!
When working abroad, I had the pleasure of meeting Jack Gantos and listened to him share his tips and strategies when writing. I was more than happy to share his presentation with the class recently Writing can be a daunting task, especially when staring at hundreds of blank pages in our notebooks. We learned that just writing 10 minutes a day can be a great start to building a story. Jack showed us his Grade 5 writer's notebook, which he shows in the picture above. He writes all of his books in his notebook first and he's kept all of his notebooks from when he was a child. Pretty neat!
To add to our repertoire of generating ideas for fictional writing, we're taking Jack's advice and drawing a map of our house and finding stories that hide within our house–either in our bedroom, in the kitchen, backyard, wherever! We might dismiss the 'everyday' things that happen to us and overlook them as potential stories to nurture and develop. Most of Jack's stories that he writes about come from things that happen to him in his own life.
In this writing unit, we hope to use stories from our own lives to inspire and create fictional characters and events.
Stay tuned for more about our realistic fiction writing adventures!
The following two tabs change content below.