Launching into Poetry
Launching a unit in poetry means that we need to immerse ourselves in poems of course! Lots and lots of poems–not only written by famous poets like Shel Silverstein, T.S. Eliot, Naomi Shihab Nye, Dennis Lee, and Sheree Fitch, but also poems written by my past students.
So, what is poetry anyway? Some might say poetry is powerful words and that poems are hiding everywhere. Others may say poetry helps us tell a story, express our feelings, helps us heal.
Poems can be silly, nonsensical, sad, joyful, sorrowful, bright, confusing, thought-provoking, simple, complex, and so much more.
Our focus in this unit is on writing non-rhyming poems (free-verse poetry) and really learning how to use language to bring life to our thoughts and look at the world in different ways. I really love for students to learn to write free-verse poems because there are no rules and it gives permission to the students to think outside the box rather than conform to a certain structure. It really allows them to think freely and not have to worry about rhyming words so much.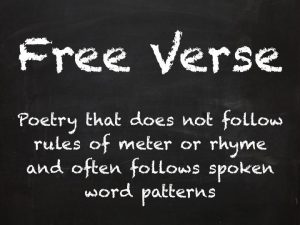 Check us out immersing ourselves in reading some great poems with our friends on Tuesday.
The following two tabs change content below.