Orange Shirt Day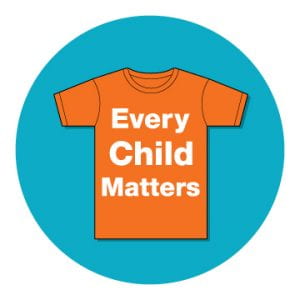 Last Friday, students and staff at our school took part in Orange Shirt Day.
Orange Shirt Day is an event that started in 2013. It was designed to educate people and promote awareness about the residential school system and the impact this system had on Indigenous communities for more than a century in Canada, and still does today.
As a class, we discussed what is a residential school, how it affected indigenous communities in Canada (and in other parts of the world), and why it's important we learn about it.
We read a beautiful picture book called Shi Shi Etko by Nicola I. Campbell. It tells the story of a little girl who is leaving for a residential school in a few days. The book is the lead up to that day. She learns to imprint on her heart and in her memories all of her surroundings, teachings, traditions, and so on.
Check out the story below.
Students decorated and designed their own paper orange t-shirt which is now displayed in our school hallway.
We read about a woman named Phyllis Webstad, a survivor of the residential school system. She also explains why we wear the colour orange.
Listen to her here:
Every child matters.
The following two tabs change content below.