LearningfromaDistance-Episode #7
Good Morning Everyone!
Language—
Begin with your journal entry.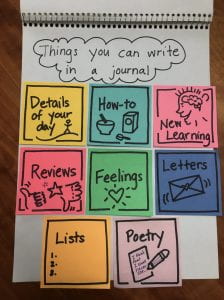 At this moment, I've received several wonderful Biographies in a Bag assignments. Thanks Daya, Chloe, Paul, Mason, Harry, Logan, and Nicole. Keep them coming!
We are launching our Writing Realistic Fiction unit!
You are going to spend the next few weeks writing your very own realistic fiction story which you will then turn into your own book. Here's your first task.
1. Watch the Jack Gantos video and listen to him tell the story of Zippy the Roach. Jack is excellent at using ideas from his OWN life to influence the stories he writes in his books. He's pretty funny, as you will see.
2. Let's dig within our own lives for stories that may be hiding and worth writing about. Using a piece of paper, draw a map of the inside of your own house–you can include all levels of your house, your backyard, and even your driveway. Drawing a map of our house may help us remind us or reveal stories that hide within our house–either in our bedroom, in the kitchen, backyard, wherever! You heard Jack's story that started in his own house.
Take your time
drawing your house map. The slowness of the drawing gives you time to reflect on what events happened, where they happened, and how they happened. Your parents may be able to help you remember various things that have happened within your house that you may wish to include in your map. Hand in your map on the VLE.
Math–In the first task, underline the clues in the questions to decide whether they are multiplication or division questions. Then write the equation.  For example, an equation could look like this:  25÷5=5   or   5 x 5 = 25
There's no spot for solving the problem, but try to figure out the answers in your own space! Hand in on the VLE.
Science–Tomorrow (Tuesday), Doug from Mystery Doug is inviting students into his home for a LIVE, 20-minute science show. He'll answer real kids' questions about the current situation we're all dealing with, as well as share a few fun surprises. Tune in at 1:00 pm at mysteryscience.com/live
As usual, Doug will be talking with students in grades K-5 in mind. The video will be available for offline viewing at the link above after the event.
Draw a plant on a piece of paper. Fill the page. Identify the major parts of the plant including root, stem, flower, leaf, seed, and fruit. Bonus: add to your diagram where the stamen and pistil would be! See the video I included to help you.
Read the following 3 books that have been assigned to you on Epic.
1. Roots
2. Stem
3. Leaves
Harry's family have shared with me a 31 Day Lego Challenge for anyone out there who's interested! Check it out!
Have you done the Family Lockdown Boogie yet?
The following two tabs change content below.